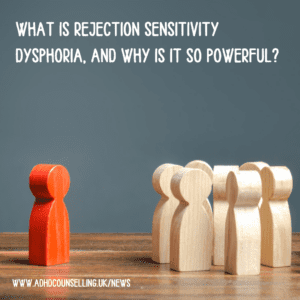 Rejection Sensitivity Dysphoria (RSD) is a psychological phenomenon characterized by an intense and overwhelming fear of rejection, criticism, or disapproval from others. While not officially recognized as a standalone disorder in the Diagnostic and Statistical Manual of Mental Disorders (DSM-5), RSD is commonly associated with attention-deficit/hyperactivity disorder (ADHD) and other mental health conditions. It is often described as an extreme emotional response triggered by perceived or actual rejection, leading to significant distress and impairment in various areas of life.
RSD can manifest in a variety of ways and can have a significant impact on an individual's emotional well-being, relationships, and daily functioning. The fear of rejection becomes magnified to an extreme degree, and individuals with RSD may constantly anticipate negative evaluations from others, even in situations where there is little basis for such concerns. This hypersensitivity can lead to a range of emotional and behavioural responses, such as anxiety, depression, anger, withdrawal, self-doubt, and avoidance of social interactions.
The underlying causes of RSD are multifaceted and can be influenced by a combination of genetic, environmental, and psychological factors. People with ADHD, in particular, are thought to be more susceptible to experiencing RSD due to their heightened sensitivity to stimuli and difficulties with emotional regulation. However, RSD can also occur in individuals without ADHD, suggesting that it may arise from other factors such as past traumatic experiences, early childhood attachment issues, or a history of rejection.
One of the key features of RSD is the tendency to interpret neutral or ambiguous social cues as signs of rejection. This cognitive bias can lead to a heightened vigilance for signs of disapproval, which may result in misinterpretations and overreactions to situations. For example, a harmless comment from a co-worker may be perceived as a personal attack, triggering intense emotional distress and potentially leading to strained relationships or social isolation.
The impact of RSD extends beyond social interactions and can affect various domains of life, including work, school, and personal relationships. Individuals with RSD may avoid taking risks or pursuing opportunities out of fear of failure or rejection. They may also engage in excessive people-pleasing behaviours, constantly seeking reassurance and validation from others to alleviate their anxiety. This can lead to a pattern of perfectionism, as individuals strive to meet unrealistic standards to avoid criticism or disapproval.
Living with RSD can be challenging and emotionally exhausting. The fear of rejection can create a constant state of heightened arousal, resulting in chronic stress and mental fatigue. This, in turn, can exacerbate symptoms of other mental health conditions, such as anxiety or depression, further complicating the individual's well-being.
Treatment for RSD typically involves a multidimensional approach that addresses both the underlying causes and the specific symptoms. Psychotherapy can be beneficial in helping individuals recognize and challenge negative thought patterns, develop effective coping strategies, and improve emotional regulation skills. Therapists may also explore past experiences that contribute to RSD, such as childhood trauma or significant rejections, and work towards resolving and healing those wounds.
Medication, such as selective serotonin reuptake inhibitors (SSRIs) or other antidepressants, may be prescribed in cases where RSD co-occurs with other mental health conditions like depression or anxiety. These medications can help manage symptoms and improve overall mood stability.
Additionally, self-help strategies and lifestyle modifications can play a significant role in managing RSD. Building a strong support network of understanding and empathetic individuals who provide validation and emotional support can help mitigate feelings of rejection. Engaging in stress-reducing activities such as mindfulness exercises, meditation, regular physical exercise, and maintaining a healthy lifestyle can also contribute to overall well-being.
It is important to note that each individual's experience of RSD may vary, and the severity of symptoms can range from mild to severe. Some individuals may find effective strategies to cope with their RSD, allowing them to lead fulfilling and productive lives, while others may require ongoing support and treatment.
It is crucial for individuals with RSD to seek professional help if their symptoms significantly impact their daily functioning or overall well-being. A mental health professional can provide an accurate diagnosis, help develop personalized treatment plans, and offer guidance and support throughout the recovery process. Furthermore, raising awareness and understanding of RSD is essential in reducing stigma and promoting empathy and compassion for individuals who experience this phenomenon. Education for both individuals with RSD and the general public can help foster a more inclusive and supportive environment.