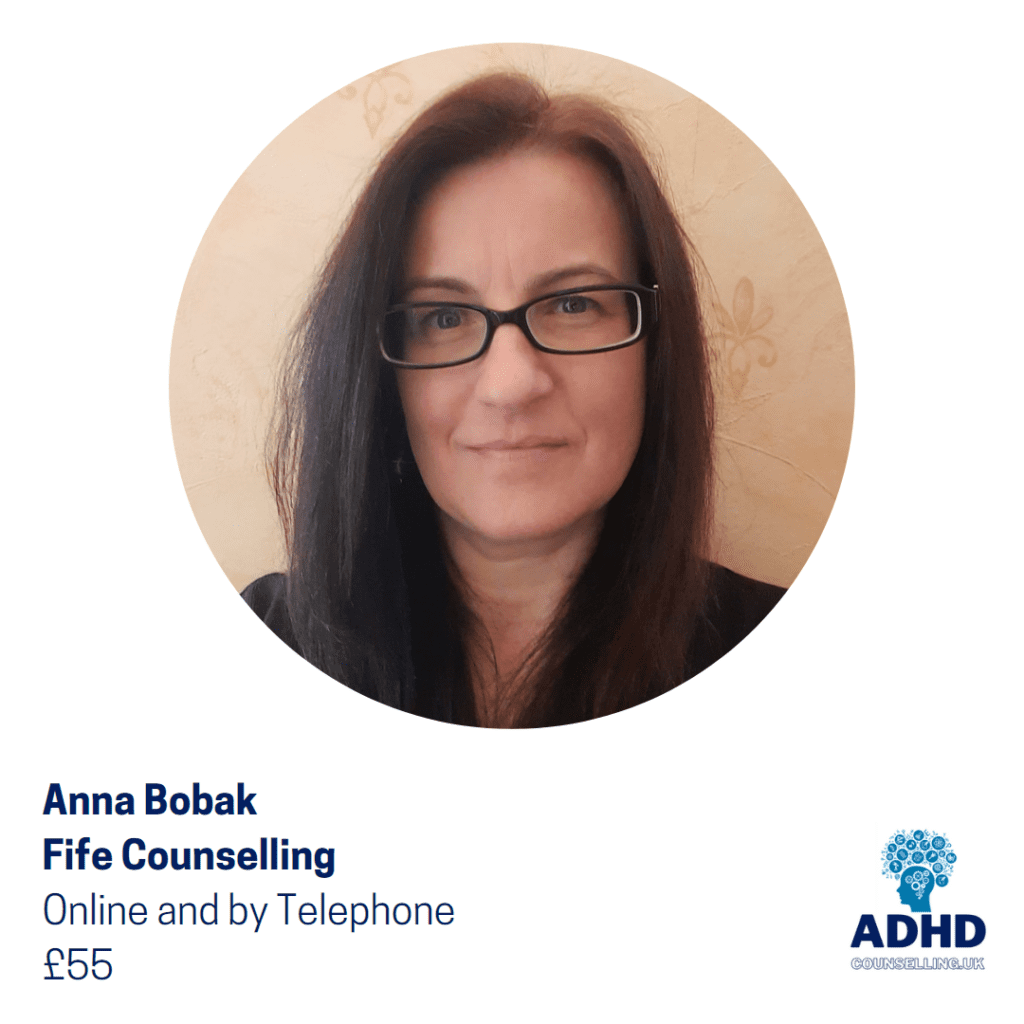 I think of ADHD like this...
As well as the standard symptoms that your health care provider will have discussed with you, you may well have a whole range of other things going on for you (some of which are listed here) to a GREATER or LESSER degree. What I mean is that the pieces of the pie might be bigger or smaller depending how ADHD uniquely presents for you.
My role is to help you uncover which elements of your ADHD are dominating your life and then to help you understand why.
AWARENESS is the first step to understanding your ADHD! From there we can collaborate on exploring different strategies to help you cope with these symptoms.
Next steps might be where we explore other areas of your life which might feed into your ADHD symptoms. For example, what triggers your rejection sensitivity? It might be connected to how you were parented, or it could be due to other relational issues.
Whatever your experience with ADHD, I want you to know that I don't take a "one size fits all" approach. Your experience will be unique and I will take the time to help you uncover not only the challenges you face but the strengths your ADHD can offer you too.
My Story: When my son was diagnosed with ADHD in 2020 I took a course with CAMHS for parents with children with ADHD and, following on from that learning, I then did further CPD and a lot of my own research which helped me understand how to compassionately and empathically support my son with the challenges he faced. Somewhere along this journey I slowly began to realise that I too had experienced much of what I was learning about. I now consider myself a self-diagnosed ADHDer and am patiently awaiting an NHS diagnosis.
If my story or the way I work resonates with you please get in touch. I'd love to work with you!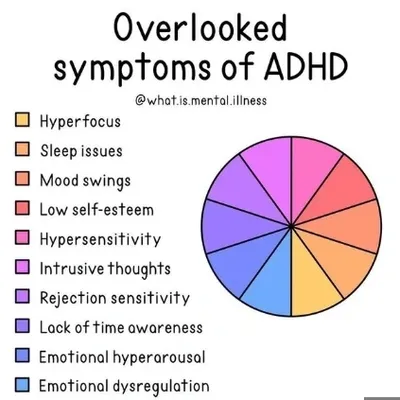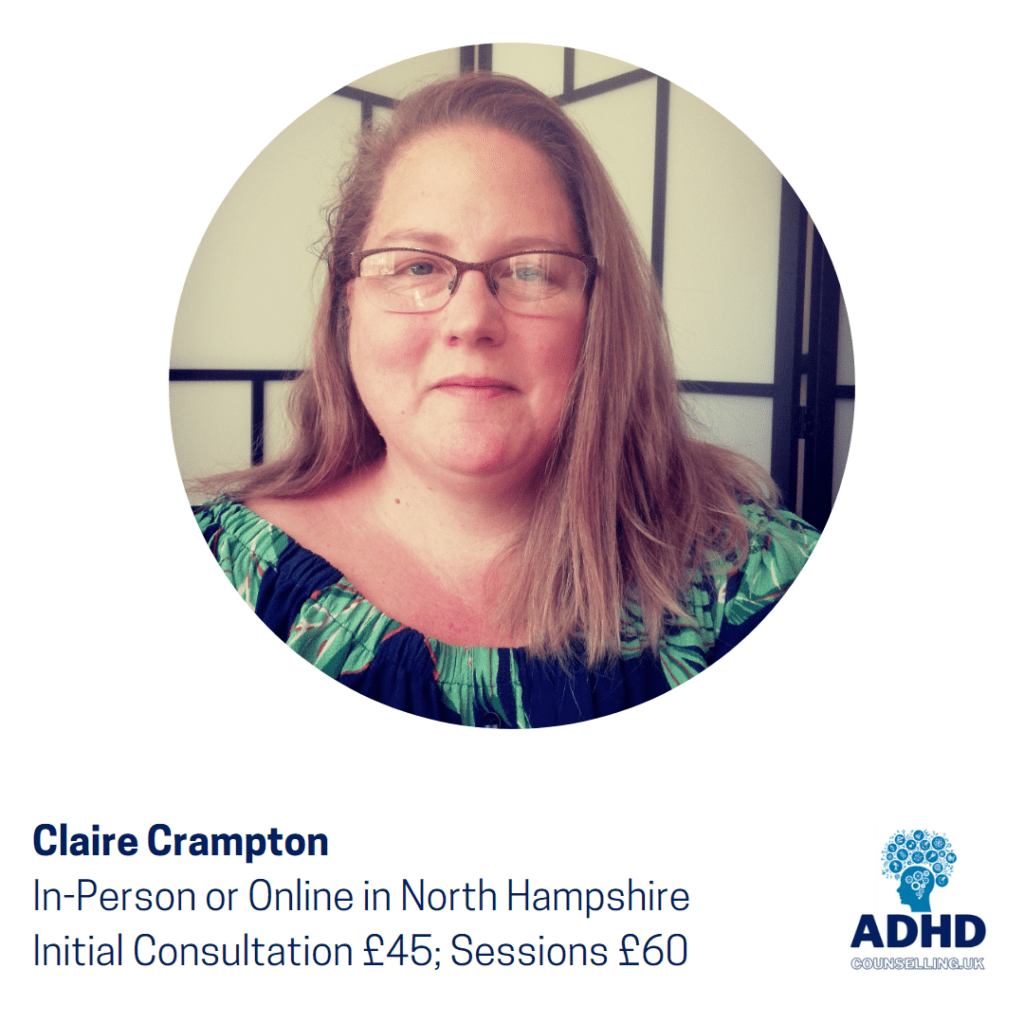 ADHD support
Therapy for those with Autism
Counselling for anxiety
Adoption work
Feeling overwhelmed?
Living with biological/ neurological differences can impact on people's ability to thrive in a neurotypical society.
If you feel how your brain works is affecting your enjoyment of life and progression in work, if you are misunderstood in relationships or if neurodiversity causes communication challenges, please get in contact.
You do not need to have a diagnosis, or for this to be the focus for us to work together.
Having ADHD and choosing the language used to describe neurological differences is a very personal matter.
My aim is to support you using the words and terms that feel right individually for you.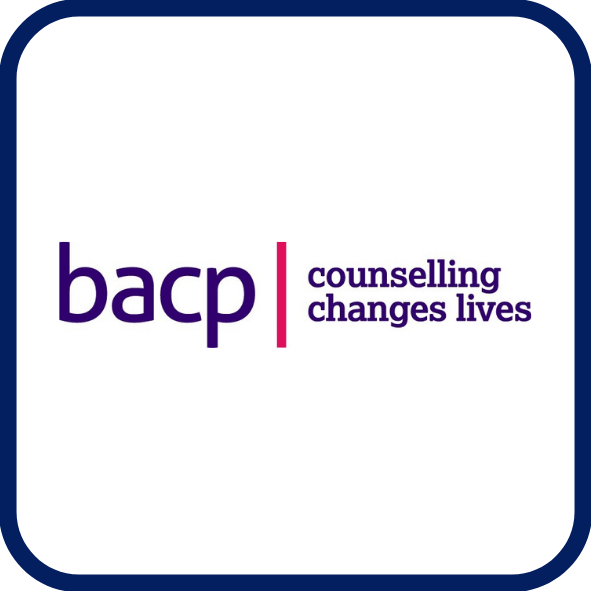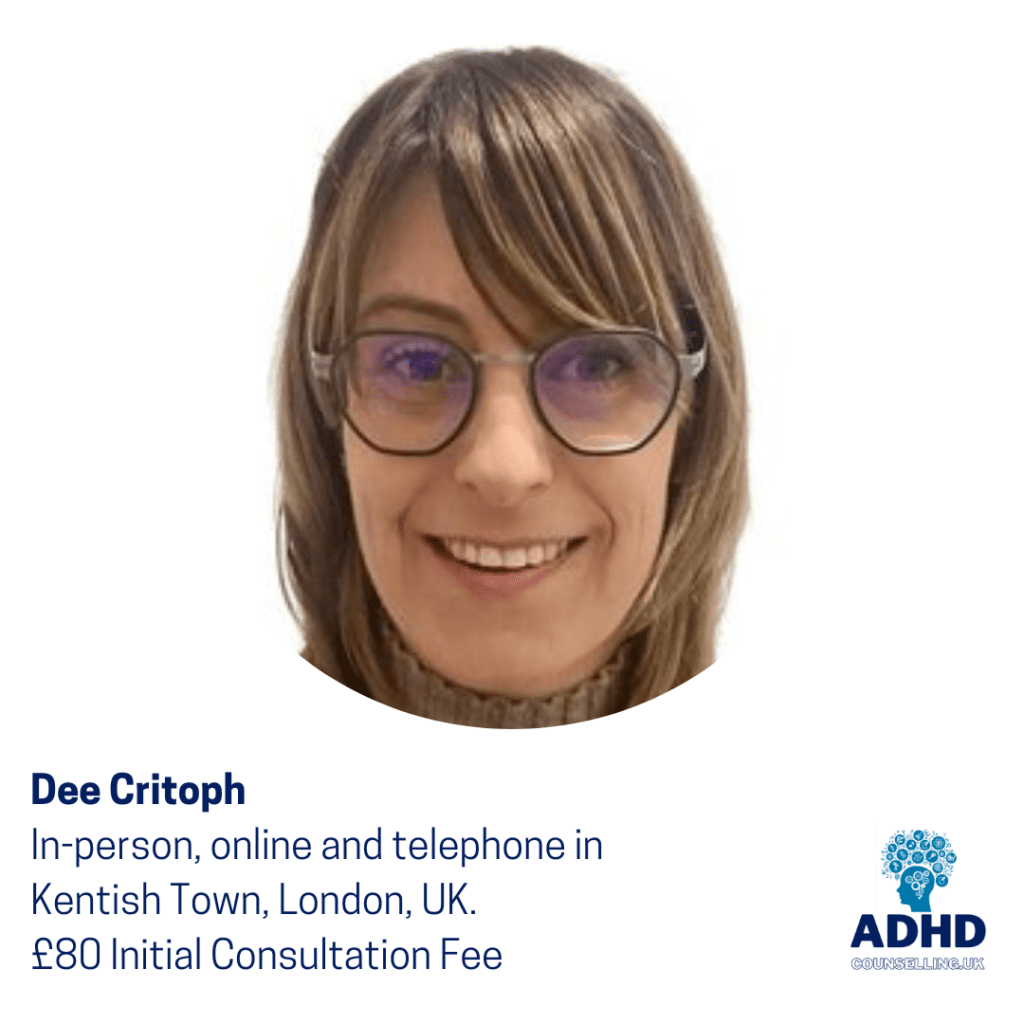 Hello, my name is Dee Critoph. As an experienced and registered Psychotherapist, I have worked with a diverse range of people struggling with a wide range of challenges, including anxiety, depression, feelings of sadness, loneliness and emptiness, low self-esteem and confidence, feelings of guilt & shame, and difficulties in relating to self and others. 
Specialisms & Expertise
Trauma

ADHD

Mind-Body connection

Harmful, Destructive and Risky Behaviour
My experience in therapeutic environments extends over 20 years. It includes working with homeless and forensic populations - offering an alternative to residential rehabilitation and emotional support to people with diverse and complex needs. In addition, I also have vast
experience working long-term with young people and adults suffering from severe emotional difficulties, disturbing behaviours, criminality and violence.
Training & Qualifications
After a career in social care, I went on to train as a Psychodynamic Psychotherapist at the Manor House Centre for Counselling and Psychotherapy, in London. I completed a rigorous British Psychoanalytic Council (BPC) and British Association for Counselling and Psychotherapy (BACP) accredited training, gaining experience through seminars and clinical practice. Additionally, I have undertaken COFRA 121 - StopSo training; a therapeutic programme to help people manage sexual risk and to live more pro-social, satisfying lives. With the world-renowned Tavistock & Portman, I attended a year-long course: Psychoanalytic ideas on violence, criminality and sexual deviation. University of Derby: Autism, Asperger's and ADHD - Recognised and Endorsed by the ADHD Foundation I have completed a two-year-long Infant Observation, a Psychiatric Placement, and I continue to embark on further Psychoanalytic training with the British Psychotherapy Foundation (bpf). The bpf is one of the country's most respected Psychoanalytic organisations.
I am a registered member of the BPC and the BACP; working to their code of ethics.
I would work to help you make sense of your feelings, moods, behaviour, and motivations. Helping you understand and resolve your difficulties by increasing awareness of your inner world and its influence over your relationship with yourself and others.
Member of: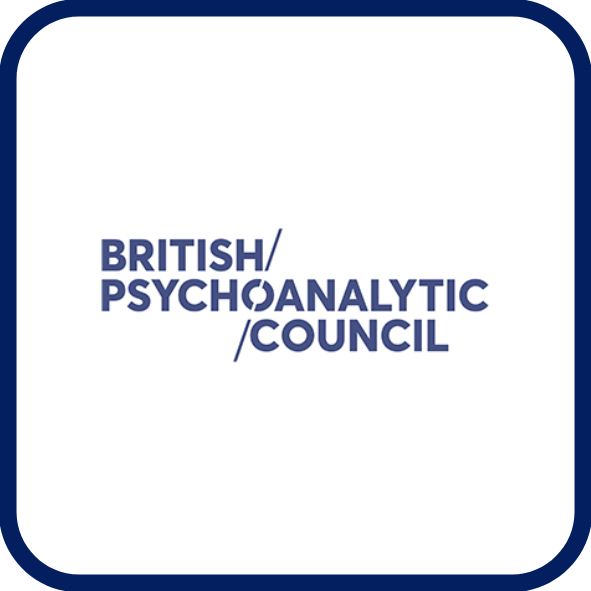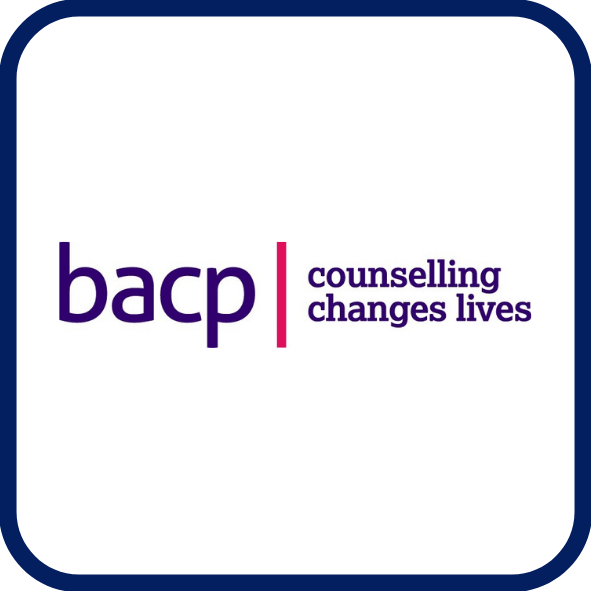 ---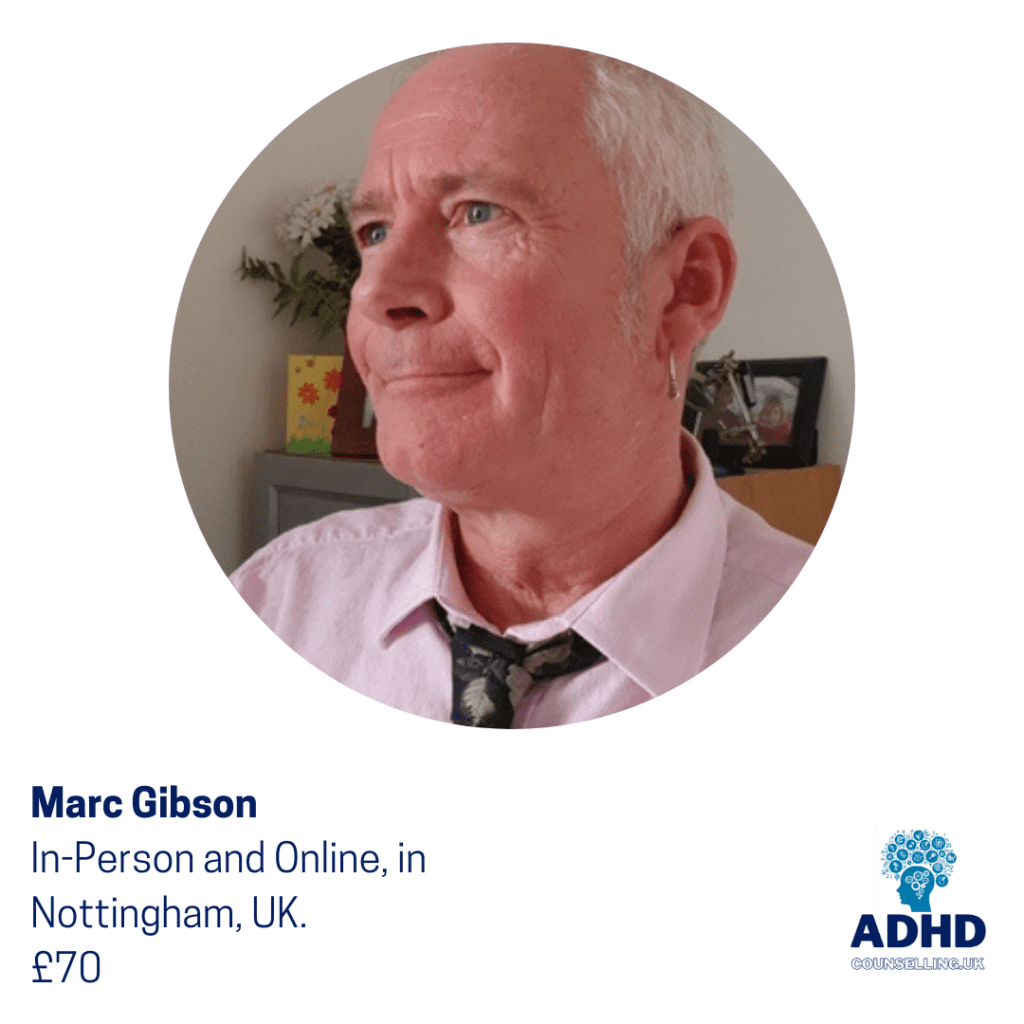 Hello and a very warm welcome. I'm Marc (he/him). I've been seeing people as a counsellor/psychotherapist since 2003, starting at the Nottingham Priory as a drug and addictions therapist, and later as a volunteer at the Nottingham Counselling Service. I've seen a wide variety of people, working with a broad range of issues, from weight to worry, from isolation and loneliness, to feeling overwhelmed and swamped by others.
I've worked many times now with people who have self identified as on the autism scale and consider themselves to be ND or ADHD..
This is all about you, understanding how it is for you in your life, how your journey has brought you to where you are, and looking at where you want to get to psychologically (and perhaps how you're going to do that)
I'm warm and I'm a thoughtful person and I try to create what feels like a safe environment within which you can explore how it is for you.
Member of: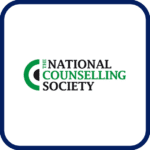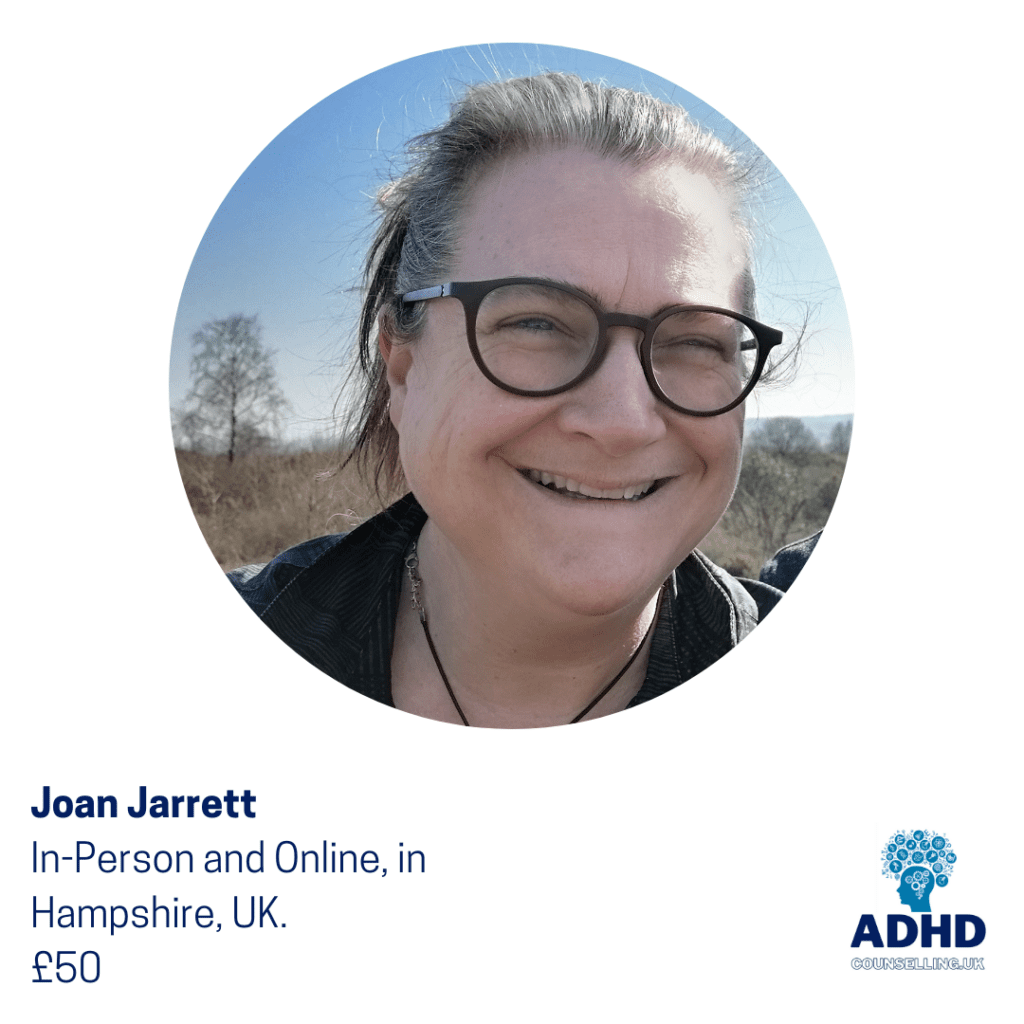 I have a lifetime's experience with neurodiversity and mental health issues so I understand the challenges these can bring for individuals and for families. I am here to listen to what that means for you, working at a pace that is comfortable while providing gentle challenge to help you feel safe, connected and in control.
Member of: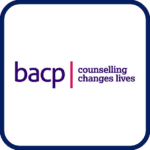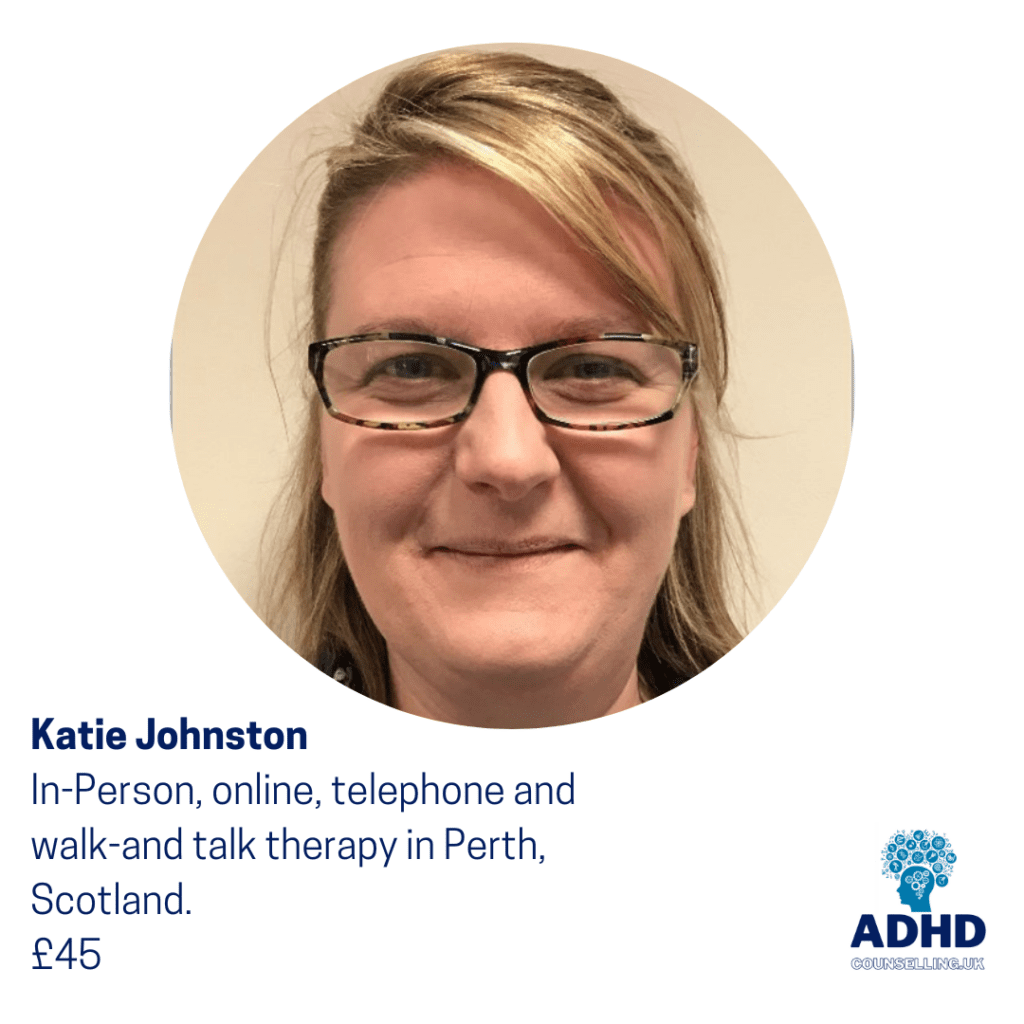 I am Katie Johnston and I run Busy Minds Counselling in Perth, Scotland. As a neurodivergent counsellor I enjoy working within a pluralistic framework which draws from different modalities to support clients' needs and challenges during therapy.
Our work together will explore your needs and is not defined by one way of working with at times the need to " think out of the box" to find new ways to approach challenges and sticking points in life.
I provide a safe and confidential space to explore your concerns and work collaboratively to build a therapeutic relationship to understand you without judgement and to support your growth and change.
Currently I offer online, telephone counselling as well as in person sessions.
I have a keen interest in working with those experiencing complex trauma, PTSD, bereavement, ADHD, Autism, anxiety, depression, disabilities, anger issues, cancer and chronic pain/ health related issues.
Prospective clients are welcome to get in touch for a complimentary 15-minute consultation.
---
Specialises in -
ADHD
Addiction
Anxiety
Internet AND Pornography Addiction
Those in Recovery
I am a counsellor specialising in the treatment of ADHD, anxiety, depression, stress, addiction, issues with self-esteem or relationships, and repeating patterns of behaviour you'd like to change. I am also diagnosed combined-type ADHD.
In addition to my private practice work, I run ADHD support groups in association with the charity ADHD, and recently appeared on the 'Conversations with Nick Conn' podcast discussing ADHD. My writing has been published by Happiful Magazine, and is often featured on the Counselling Directory website.
Trained in Psychodynamic Psychotherapy, my practice has developed to emphasise the relationship between therapist and client and I endeavour to create a safe, non-judgemental environment in which your presenting issues can be explored and better understood.
I work in private practice from my home in Whetstone, N20 and offer sessions five days a week either in-person or online via Zoom, Skype, Google Meet or Microsoft Teams.
Member of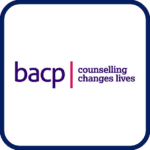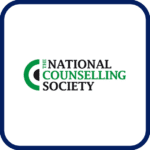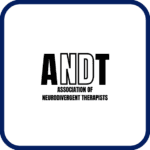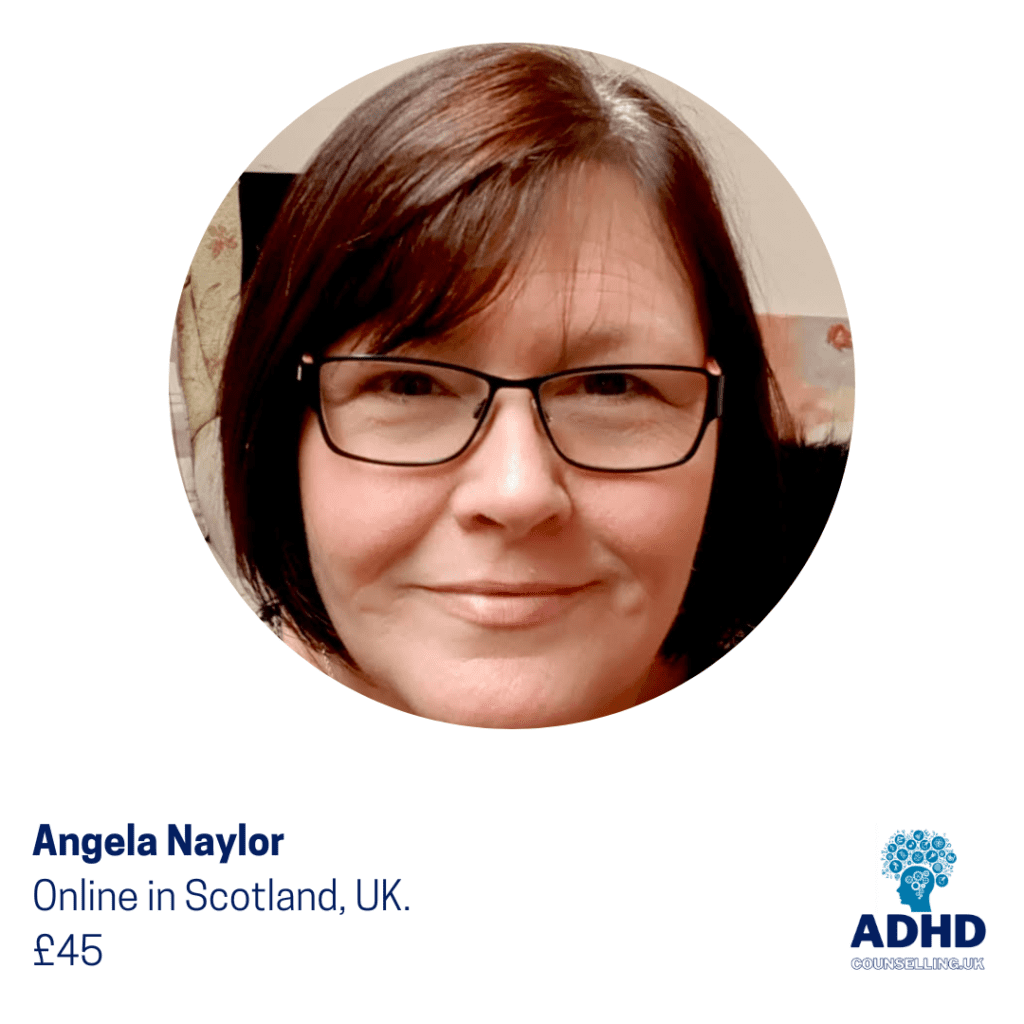 I was born and brought up on the Moray coast in the north east of Scotland and have lived there almost my whole life. I am married with two grown up children and three beautiful grandsons.
As an adult with ADHD I realised very early on that support is almost non-existent.   Being in a unique position of being an adult with ADHD I decided to help fill the gap and my private practice was born.
I have a passion for supporting adults wherever they are in their ADHD journey; whether that be just mildly curious about ADHD, or diagnosed and possibly medicated.  You don't have to have been diagnosed to want to have a conversation about what it means for you.  Many of my clients see me prior to asking their GP for a referral and this helps them get clarity on their reasons for seeking the formality of a diagnosis.
I have an interest in working with all forms of neurodiversity in adolescents and adults.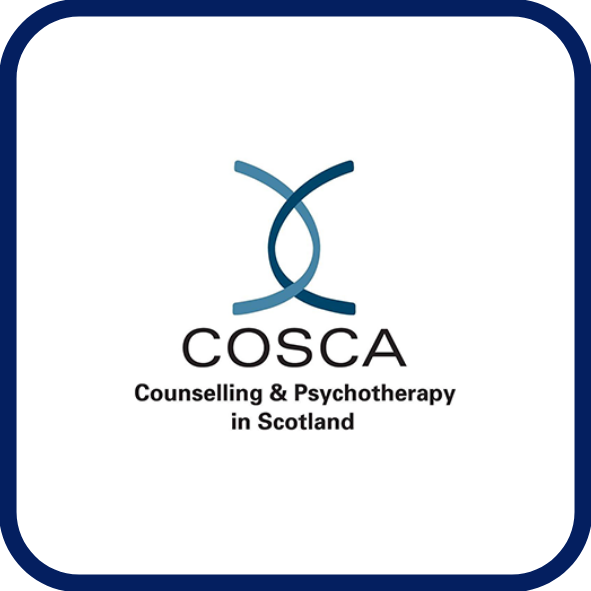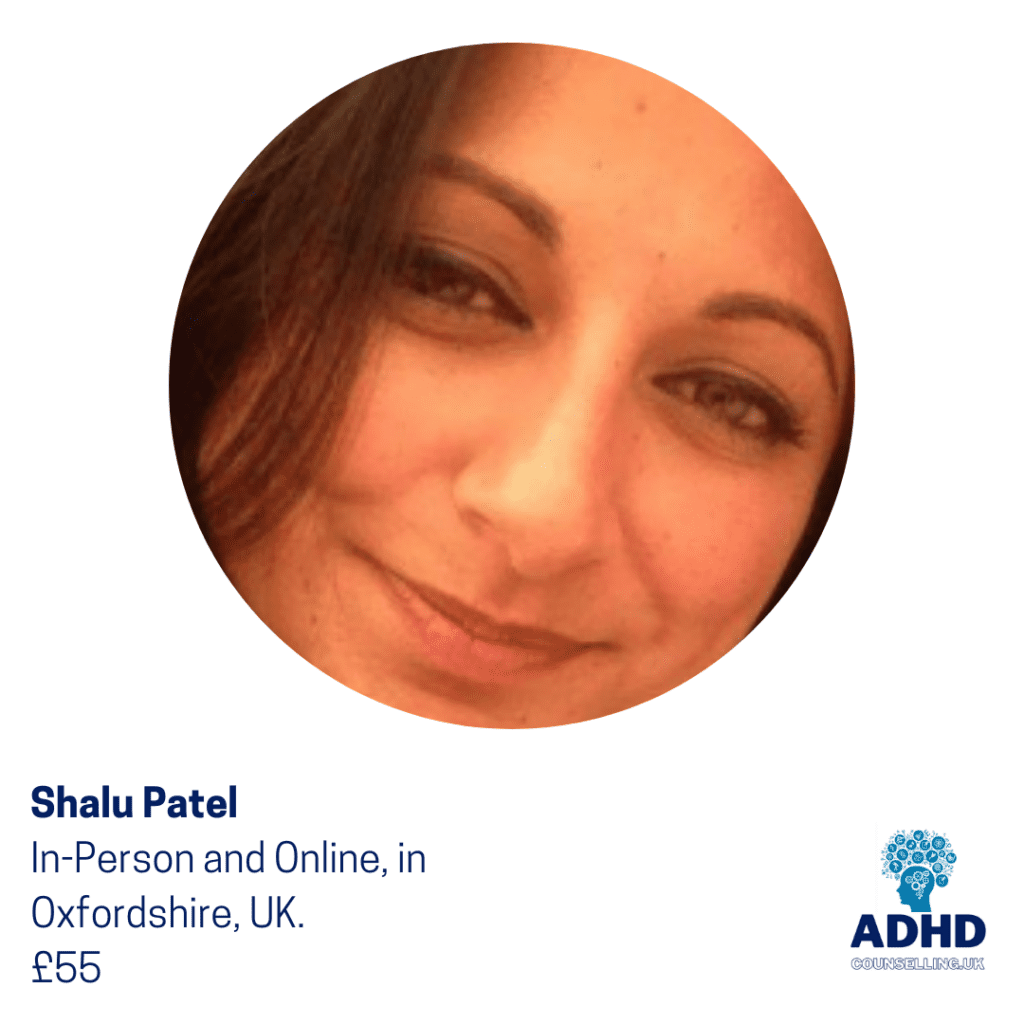 I am an experienced, qualified counsellor and psychotherapist working in Wantage, Oxfordshire. I am a member of the British Association of Counsellors and Psychotherapists (BACP) and have worked for a number of years with both charitable organisations as well as private practice. I am an integrative psychotherapist, which means I use a range of modalities and techniques to help clients. I believe we are all individuals and work through problems differently. I tailor my therapy to work with the client and respect that individuality. I work with many neurodiverse clients who have struggled with making sense of a largely neurotypical world. My approach is to help clients understand and embrace their neurodiversity so that it can be positive aspect of their life experience.
Whether you want to explore a specific issue, want support during a difficult period in your life, or want to explore your past experiences more in-depth, I provide both short-term and long-term therapy to suit your needs.  I offer a safe and confidential environment in which we can explore the basis of any problems or anxieties which may be getting in the way of living a happy and fulfilling life.
Member of: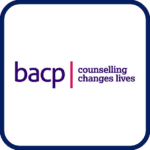 ---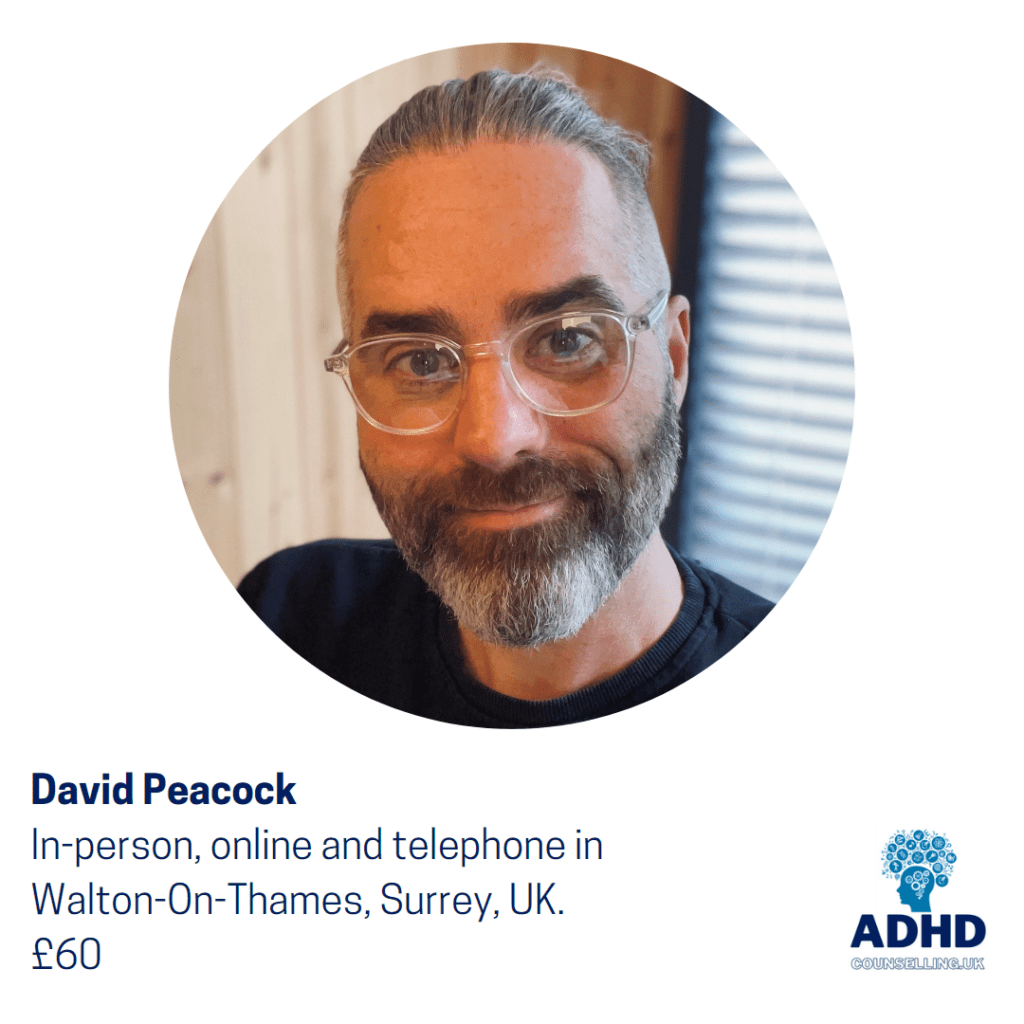 Can you imagine feeling calmer, more settled, and self-aware? 
Experiencing the frustration and struggle of needing to explain everything to something who doesn't understand?
As a Psychotherapeutic Counsellor with lived experience of ADHD, I can help you to explore what is going on for you, whether in your head, inside your body or wherever you feel that feeling that things are not OK right now.
With the #livedexperience of ADHD and neurodivergence, I hope to explore the emotional impact, the emotional cost and the potential for growth and change for you.
I currently see lots of people who are struggling with what life has thrown at them, and people who have been struggling for a long time. I recognise these tendencies and hope to provide the connection, empathy and understanding that can make the difference to you. 
Whether you were diagnosed as a child or have had a recent adult ADHD diagnosis and need support in coming to terms with it, or you suspect you may have ADHD – I would like to help.
Member of: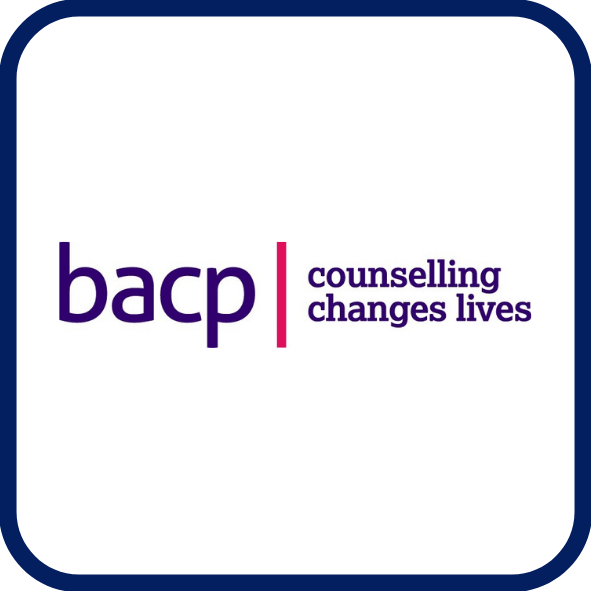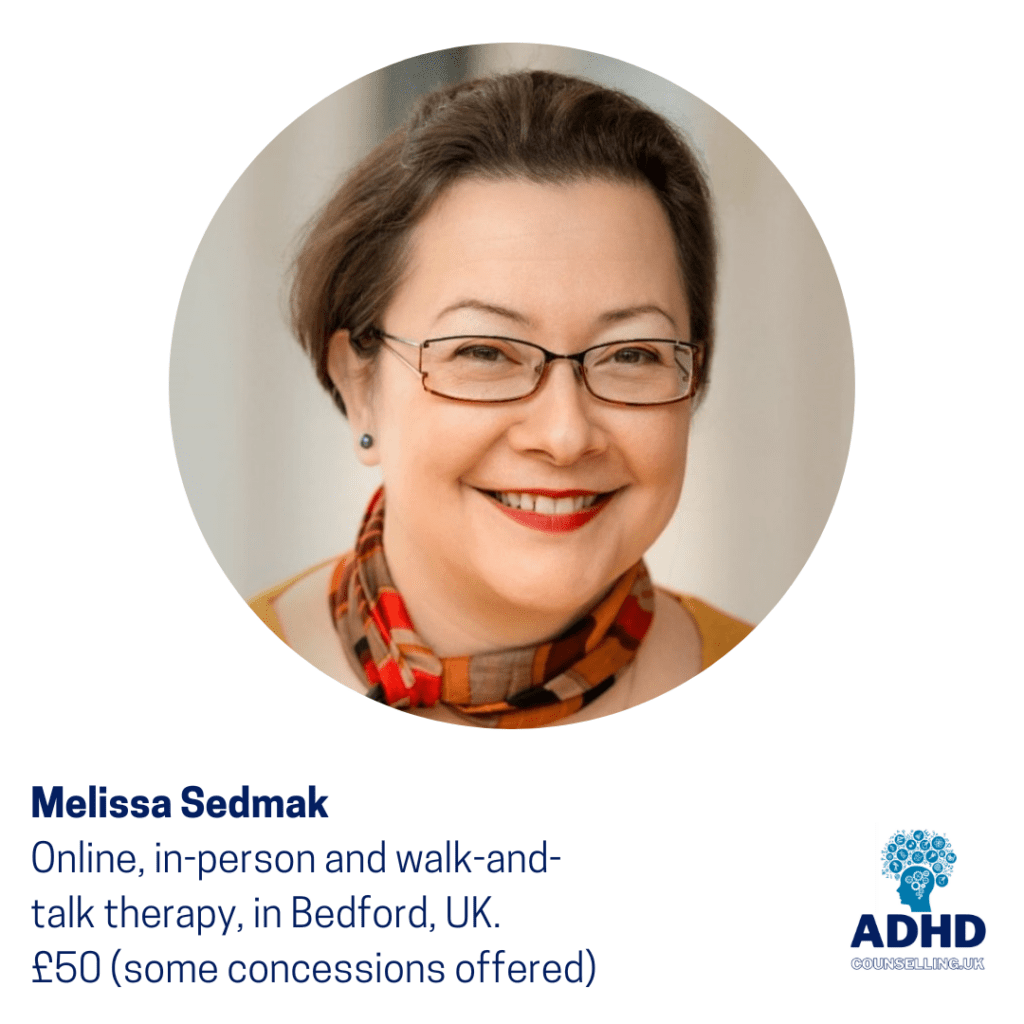 Specialises in:
Anxiety
Existential issues/life crossroads
LGBTQ+ issues
I am a Qualified Counsellor and a Registered Member of the British Association for Counselling and Psychotherapy (BACP).
I work in private practice Bedford Bridge Counselling offering online and walk and talk counselling, and depending on the pandemic, also face to face counselling.
I started seeing clients in 2012 and have worked with clients across all age ranges, from 20, up to and beyond retirement, of varied abilities, ethnicities, genders, sexual orientation, religious beliefs. Clients often bring challenges with anxiety, identity and life transitions. I am committed to offering a service which is welcoming to all backgrounds in a supportive and non-discriminatory manner.
My approach is humanistic – relational Gestalt, with elements of person—centred, mindfulness and existential approaches. I take commitment to my clients seriously and engage in regular continuing professional development.
If you feel that I can help you with your challenges, please contact me by a WhatsApp, text or by email.
Member of: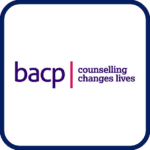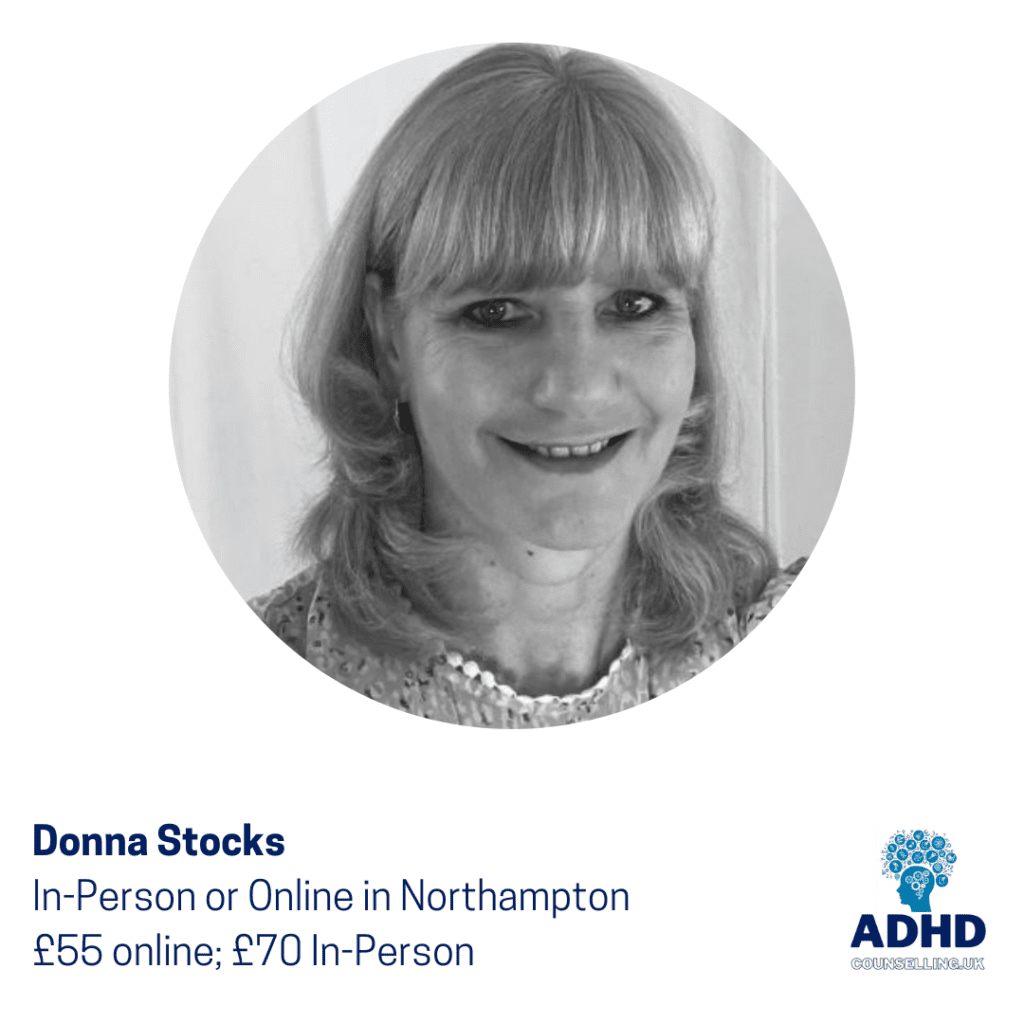 I am a registered counsellor and holistic therapist, with a specialism in Adult ADHD, I work with depression and anxiety, loss, trauma, self-id discovery, addiction, etc.
I have a personal experience and further training with working with ADHD, helping clients to understand who they are within the context of neurodiversity, working with their own presenting traits rather than against them, working to identify maladapted behaviours and beliefs that are unhelpful and/or untrue.
I also have further training in using 'Inner-Child' therapy to meet the needs that were not met as a child, allowing exploration of beliefs and coping strategies which maybe holding back growth and recognition of unprocessed emotions causing inner turmoil.  We often look back from an adult perspective, with a fully grown rational brain and developed emotional intelligence, which can diminish the actual emotional experience of our child selves. Inner child work helps to validate that child experience at the time and give them a voice and opportunity to give that part of us compassion and understanding.   We can gain a lot of insight into what may still be influencing us in adult hood.
Experienced with childhood abuse, domestic abuse, addiction, complex bereavement and loss, self-harm and coping with loved ones who are suffering with mental health issues.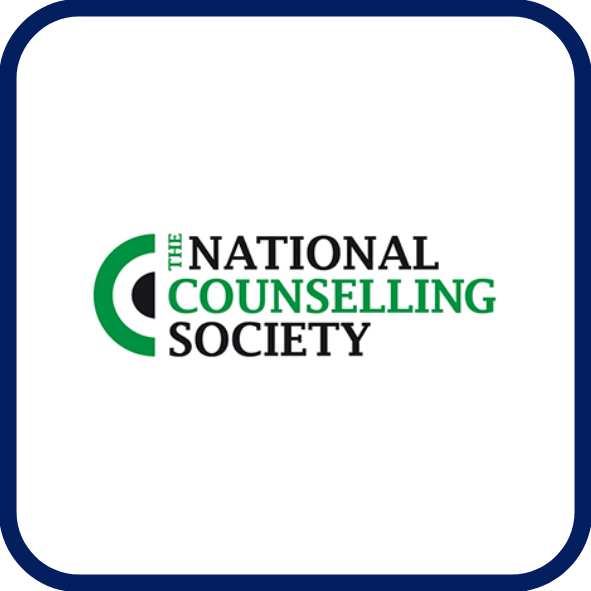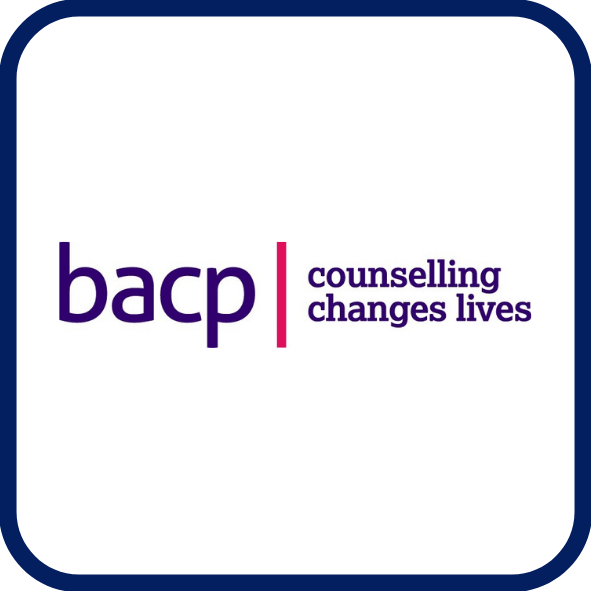 ---